Back in 2010 after a second season working in the Sierra studying birds and a fresh broken heart, I hiked the John Muir Trail with one of my friends, Vona: blog here. Little did I know that nine years later, I'd be hiking the JMT a second time with another one of my best friends and married to him after many years of friendship. Life never ceases to amaze me and both trips were to-the-depths of my soul satisfying. Join us on our 220+ miles!
Permits
After an outstanding two week thru hike on the Tahoe Rim Trail in 2015 with Keith, we decided that 2019 was the year for the JMT. We applied six months prior in February in the rolling lottery and after two and half weeks of no luck, we got one of our last dates. You can apply for up to three consecutive starting dates. If you have no luck catching one of your start dates, you can keep an eye out for cancellations.
Upon applying, I listed Sunrise as my preferred start over Little Yosemite Valley, which is the official start. One reason is that the Valley is insanely busy and I had hiked out of it on my first JMT hike. A second is that if you are bringing one vehicle, it is a great to park your vehicle long term at the wilderness station in Tuolumne where you pick up your permit. You can then camp at the thru-hiker campground and catch a shuttle the next day to Sunrise Trailhead to start your hike. The first night you can camp at the Sunrise Campground right before the official JMT trail junction. And, you can pack just two days of food and stop at your vehicle when you pass by two days later. It's a GREAT way to get your trail legs used to the weight and ease yourself into it.
Itinerary
On this 23-day itinerary, we opted to take a slower-paced route than my previous JMT hike to enjoy our time and have leisurely lake swims and afternoon naps in the sun as well as one zero day. I HIGHLY recommend my itinerary if that's what floats your boat!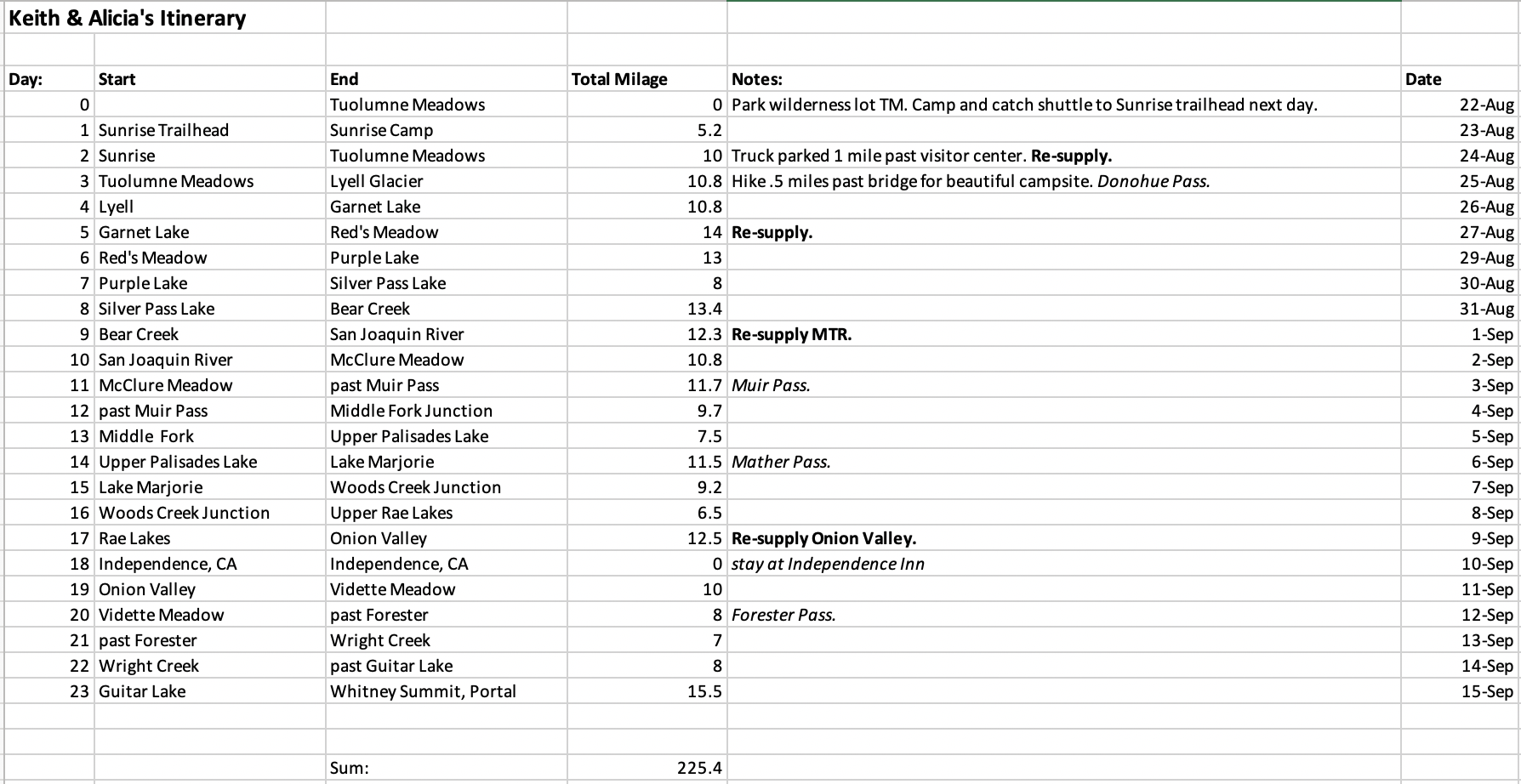 Resupplies
On my original 18-day trek, we resupplied at Tuolumne Meadows, Vermillion Valley Resort, and Muir Trail Ranch.
On this 23-day trek, we did four re-supplies:
Tuolumne Meadows – Our truck was parked at the wilderness station where you pick up your permit long term. We put our resupply into a bear locker near the parking lot that we would come by in two days. Be sure to remove all smelly things from your vehicle or the bears might just rip a door off to get to your smelly goodies. We packed enough meals into our re-supply to get us to Red's Meadow on Day 5.
Red's Meadow – We mailed ourselves a 5-gallon bucket of food and supplies for Day 6 through 9 until our next re-supply. Red's Meadow has a general store, grill, cabins to rent or a campsite, and token showers. Pro tip: Pack a laundry sheet and some one-use shampoos and go get your $5 five-minute shower on while you do laundry. Winning!
Muir Trail Ranch – This is an expensive re-supply but understandably when you realize they have to cross lakes and over crazy terrain to retrieve your packages from town to bring back. There is no camping here, but you can pay for a cabin. Most folks camp near the hot springs right after. Plan to get your re-supply and dig through the abundant overflow hiker boxes and then get out. I'm serious, you can't even pee here. Just go!
Onion Valley – Onion Valley is an entire day hike off the JMT but so worth it (in my opinion) so you don't have to carry 10+ days of food. We stopped here on Day 17 and then only had to hike with five days of food to reach Mt. Whitney. This was a much better option than my first JMT hike carrying 10 days of food. You can hitch a ride or arrange pickup to Independence where you will pick up your re-supply. I recommend with ten thumbs up having your package mailed to the Independence Inn in Independence with Jim. He will pick up your re-supply at the post office and pick you up or drop you off for a reasonable price. And, if you need a zero day, this is a great time to grab a room, stay the night, indulge in too much Dr. Pepper and tacos from the taco truck, shower, and sleep in a bed. Yes and double yes!
Food
One of my favorite four letter words! What does one eat on a thru-hike? I will tell you two very important things to consider. Weight of your food and calorie content. Then, taste and ease of preparation. Some of my go-tos are dehydrated beans, Nutella, tortillas, dehydrated hummus, oatmeal, Clif builder bars, honey sticks, trail mix, and dehydrated dinners, my favorite being Mountain House lasagna. Planning food is a lengthy process. I suggest going on a shopping spree and loading up and then coming home and spreading everything out on your floor and organizing it into what you will need for each day. Then, you can start to pack it into re-supply buckets. Make sure you mail those out with adequate time that they get to your destination before you do!
A typical day for me:
Breakfast – 1.5 packs oatmeal, 1 instant coffee pack
Snack – Clif Builder Bar, honey stick, small bag trail mix
Lunch – Nutella + Justin's Almond Butter (single packs) wrapped in a tortilla, MMMM!
Snack – Beef Jerky, string cheese
Dinner – dehydrated Mountain House meal
Dessert – Hot Chocolate or Hot Cider
My Gear
Clothing
(1) Long-sleeved Lightweight Shirt – For sun protection and lounging. I opted for a higher end one that felt luxurious on my skin. I still love to wear it and it NEVER stank!
(1) Long-sleeved Base Layer – Wool is perfect for non-stink qualities and providing warmth. I love this Icebreaker Merino as it was super lightweight and more comfortable than any other wool I tried.
(1) Patagonia Strider Shorts – Quick drying, light, and super comfortable
(1) Lightweight Tank – quick drying and ultra-breathable
(1) Prana Quinn tank – I am obsessed with these tanks as they are comfortable, durable, and can don't ever seem to stink. They're very flattering too! They aren't light on weight but it was worth the extra ounces for me. https://amzn.to/32TZMR5
(1) Down Jacket – I bought my Cotopaxi Fuego before the trip and their customer service is outstanding, they support education and community building abroad, and their down jacket was absolutely perfect and kept me warm with high quality down.
(1) Marmot Rain Jacket – I loved my rain jacket but realized into the trip that I should have bought a new one before. Despite re-waterproofing this before I left, it left me damp and cold on the rainy days.
(1) EMS zip off pants – Mine are over a decade old but any zip-off lightweight hiking pant is perfect.
(1) Fleece tights – A base layer for cold days and for something to snuggle in at night.
Lowa Renegade GTX Mid Boots – I hiked off the trail on my first JMT hike and purchased these as my boots were blister-factories. I have never looked back. I purchase a new pair every few years and they are by far the most comfortable and amazing hiking boots!
(1) Crocs—So ugly, so perfect for thru-hiking. Light weight and great for river crossings and wearing at the campsite.
(1) Buff Half Headband – Great as a headband or versatile enough for a bug guard
(1) Warm hat – I dug up my old mountain man hat
(1) Sports Bra – a lightweight, quick drying bra
(2) Bandanas – Useful for everything from a washing rag to a sleep mask
(2) Ex-officio underwear – Wash and hang on your bag to dry while you hike.
(2) Wool Hiking Socks – I used Darn Tough for the first time and they are my favorite hiking socks now.
(1) Injiji Liner socks – My answer to not getting a single blister are these toe socks. ZERO blisters!
(1) Sun hat or cap
(1) Lightweight gloves – Great for cold mornings.
(1) Sunglasses. Polarized is worth it!
Camping
Gregory Diva 60L Pack – Mine is quite old but it fits me like a charm. It's heavier than some but to me, it's worth the comfort.
Trekking Poles – Your knees will thank you a million times. Trekking poles help alleviate so much pressure going downhill and can help you drag yourself up those last switchbacks up Mt. Whitney.
Lightweight Day Pack – This 2.3 ounce daypack was perfect to have on hand for when you set your pack down and just wanted to take a bag down to the lake or a quick jaunt.
Pack Cover – If it rains, and it likely will, you'll want a dry pack.
REI Quarter Dome Tent – Lightweight and built well. It's a little tight for two people but were okay with being cozy!
Sleeping Pad – I used the REI Flash but do not recommend it as it got many holes. A traditional thermarest is good but the inflatable ones offer more comfort.
Pillow – Not necessary but after my husband gifted me his old one, I was sold. It's worth the 2.7 ounces for a little better sleep.
Sleeping Bag – I use an old 15 degree down bag and it kept me warm enough the entire trip.
500V Bear Canister – This is a JMT requirement, you can rent them or purchase them. This is the typical go-to and it carries about 8 days worth of food if you pack it tight.
Ultralight Medical Kit – I customized mine with things I found relevant.
Smart Water Bottle – Trust me on this, get one. It works well to filter your water into especially if you use the Sayer Squeeze System.
Sawyer Squeeze – Lightweight and easy to use. Just squeeze unfiltered water through a pouch into the squeeze and into your water bottle.
Platypus 32-ounce pouch – The Sawyer Squeeze pouches tend to deteriorate quickly so this is a good alternative.
Osprey Reservoir System – I like to have my water instantly ready to drink so I use this system over having to stop and pull bottle out.
GSI Outdoors Ultralight Camp stove and Bowl set
Talenti Gelato Container – Perfect for soaking my dehydrated beans or mixing hot chocolate.
Lighter – Get a reliable BIC or similar lighter.
MSR fuel
Toiletries
(2) Chapstick. Put one or two in re-supply boxes.
Wet wipes – One a day served me well. Pack them in small ziplocks.
Small containers of my favorite face lotion.
Biodegradable Soap – a 1oz of Dr. Brommer's is perfect and enough for three weeks. My fav is peppermint. Pro tip: Don't use your soap IN THE WATER as it can be harmful to the ecosystem. Fill up a container with water and soap and use it far away. A little soap goes a long way!
(3) 1 oz sunscreens. Put one in each re-supply box.
(2) 1 oz hand sanitizer. Put one in a re-supply box.
Electronics
iPhone – Navigation (I use GPS Motion X and Gaia for maps), Music, Podcasts, and Photos
Camera – As a photographer, it was hard to not bring my DSLR but I left it behind in favor of a smaller camera. We used the Panasonic Lumix DC-ZS70. I really liked the zoom but would opt for a Canon Powershot next time as the photo quality is a bit better.
Solar Charger – I used a cheapie Renology and it wasn't perfect, but if I had it plugged into my Anker power brick charging it during the day, I was able to keep my devices powered with it.
Anker Power Brick – A must have. This is small and worth the extra ounces. It combined with the solar charger helped me keep my phone charged for music, navigation, and photos.
Black Diamond Head Lamp – Reliable and has different modes including a red light which is great for night vision. One set of extra batteries is all you should need.
Headphones – When you're tired of the chickadees singing to you, you can tune out to some podcasts. My all time favorite is Ologies.
Etc.
JMT National Geographic Map – After looking at different maps, this was my favorite layout. Easy to read, lightweight, and durable.
John Muir Trail Book by Elizabeth Wenk – I bought a digital version and saved those precious ounces. This book has everything you need!
Permethrin Insect Repellent – Before my trip, I sprayed all my clothing with permethrin to repel mosquitos. It has NO smell and lasts six weeks on your clothes. It really, really does work and I enjoyed watching the mosquitos buzz but not land on me. Usually, I'm the ultimate mosquito meal.
Compass with mirror – I'm old school and believe in my compass and maps. Plus, it has a mirror which I could use to pick food out of my teeth or see how unruly my eyebrows had become.
Notebook and 2 pens – It was fun for me to reflect each evening on the day.
Paracord – Useful to create a clothesline or to extra tie-down your tent.
Swiss Army Knife – Always useful!
Shuttle Services when you Finish
Some folks have to fly in to a neighboring airport and rent cars or hitch rides. There are tons of blogs out there but I will focus on what I did since it felt like the best option for a group with just one vehicle. We parked our truck at Tuolumne Meadows and shuttled the next day to our Sunrise Trailhead start. When we completed the John Muir Trail, we hiked out to the Whitney Portal and hitched a ride to Lone Pine where we stayed one night at the Lone Pine Portal Hostel. We had a ride arranged the next day with Lone Pine Kurt (lonepinekurt@aol.com) who drove us back to our vehicle, which only took about two and a half hours. His rates in 2019 were $250 for two people.
---
My 23-Day Itinerary + Camps
Day 0 -Tuolumne Meadows
Campsite: Tuolumne Meadows Thru Hike Camp Area
We camped at Tuolumne Meadows after organizing all of our gear and bidding farewell to our truck that we parked long-term at the ranger station. Make sure to remove all smellies from your vehicle because those Yosemite bears don't mess around! We sat by the organized campfire that evening and learned about the people behind the JMT, particularly Mather and Muir. In the morning, we grabbed the free shuttle from TM to Sunrise Trailhead where we officially start the John Muir Trail!
Day 1 – Sunrise Trailhead to Sunrise Campground – 5.2 miles
Campsite: Sunrise Campground
We started the day with some uphill goodness getting re-adjusted to hiking packs. A quick lunch at Sunrise Lakes and back to the trail. Mountain Chickadees sang to me and my heart couldn't be happier as we started our three-week adventure. We set up our first night overlooking the verdant Tuolumne Meadows with Cathedral Peak and its glacier formed peak buddies decorating (devouring) the horizon. Our dinner was provided by Ron, Persian peach stew, fireball, and hot apple cider, apple with cheese (to start), and an oreo bar for dessert. And every night after we thanked our friend Ron for giving us all of our dehydrated meals, maps, and extra bear canister. He had dreamed of someday hiking the JMT but decided to live through us for the moment. I know he'll hike it someday though! We were chased inside by mosquitos but then watched the faded dusty pink sunset from our sleeping bags.
Day 2 – Sunrise Campground to Tuolumne Meadows – 10-12 miles
Campsite: Tuolumne Meadows ($5)
A beautiful day through the meadows, past Cathedral, and among the chickadees, nuthatches, and Clark's nutcrackers. We side-tripped to the Soda Springs, a natural carbonated springs, where you can sample the springs at your own risk. Our lunch at Lower Cathedral was our own secluded, rocky meadow cove. We dipped ourselves into the crisp lakes and howled in laughter as my crocs got stuck in the muddy bottom. My favorite lunch followed which was Nutella and Justin's cashew butter wrapped in a tortilla. All while lying in the sun like a vitamin D-thirsty Iguana. Another six miles or so miles rolling through the pines into Tuolumne Meadows and then we did a resupply at our truck. I highly recommend this if you long-term park there as you can carry less your first two days to get acclimated to your hiking legs! We grabbed beers at the store and sat around the organized campfire where the ranger spoke about what home is and what defines it. We talked about birds and their innate migratory itch called "zugunruhe." Near and dear words echoed straight into my soul.
Day 3 – Tuolumne Meadows to Lyell Glacier – 10.8 miles
Campsite: near Lyell Glacier at 37.760344N 119.258025W
This was Keith's birthday and a day of perfection. I swore I could have died happy at any point. We departed from the thru-hike camp to stop at our truck in Tuolumne Meadows and re-supply. The chickadees sang "Cheeeese-burger," (hence them lovingly being called the Cheeseburger bird) at the ranger station as we passed by. Beautiful meadows unfolded as we hiked adjacent to Lyell Fork. Our lunch break was tucked away beneath lodgepole pines with a series of small waterfalls serenading us. A perfect opportunity to take a "bird bath" and flap around in the pools and then perch on a rock and enjoy tuna (for Keith) and Nutella sandwiches (for me). The hike soon transitioned into glaciers and the snow-engulfed rocky peaks summoned us. Mule deer mellowly chomped as we walked by in our dreamscape landscape. Breathtaking views pilled us up and over log crossing, rock leaping, and a mile of switchbacks into more eye candy. Out of breath but divinely, soul satisfyingly overjoyed, we sauntered across the straight-from-snowmelt water, gawked at Lyell glacier, and chose our heaven for the night. We watched American dippers dip, ate lasagna, Nutella, hot chocolate, and the rest of Keith's birthday Reese's and fell into our little REI quarter dome tent. The new moon night displayed a sky so full of stars that my brain got dizzy taking it all in.
Day 4 – Lyell Glacier to Garnet Lake – 10.8 miles
Campsite: Garnet Lake at 37.711711N 119.151927W
The day started with a zingy bird bath in fresh, fresh water. We trekked the one mile up over over Donahue Pass, where we then scrambled up to the tippy top to get a 360 view of the meadows behind and the the rocky terrain in front of us. We continued into a fairy-tale stroll through the mountain wildflowers and chickadees singing. Verdant meadows were alive with streams frolicking in every direction. Each turn somehow became more beautiful as snow-capped toothy peaks hovered, like a watchful guard of the meadows. We stopped for late lunch at a small emerald lake a few miles before Garnet Lake. A cool foot soak is always a great way to take a break and was a mandatory requirement for me at night. I have plantar fasciitis but the cold soaks kept it at bay for the entire hike! Soon we were hiking through Ansel Adams Wilderness and it showed; every step echoed with flashes of the snowy peaks juxtaposed against virgin lakes in black and white. My eyes clicked like a shutter creating scenes devoid of color with each clank of my trekking pole. Wow. Eventually, we reached Garnet Lake and found a divine nestled, spot overlooking the lake. We dove in for our routine pre-dinner bath.
Day 5 – Garnett Lake to Red's Meadow – 13-14 miles
Campsite: Red's Meadow Campground
We rose at 6am at our slice of heaven and then got a move on hiking past beautiful lakes like Shadow, Gladys, and Rosalie. We moved quickly so we could get to Red's Meadow in time to get our re-supply, shower in a real shower, and do laundry in a washing machine. The beautiful lake-y morning turned into a dusty, dry stretch from Gladys until Minnet Creek crossing where we both had run out of water. No one was aware that this stretch was devoid of water, so be sure to carry more than you think you need here. After lunching at the crossing and soaking my tootsies, we trekked a few more miles through Devil's Postpile. When we finally arrive to Red's Meadow and set up our camp at the campground, we hike the 10 minutes to Red's. I took my $8 eight-minute shower like a well-seasoned pro hiker. I set my iPhone timer and got down to the business of defunkifying and washing my mane of curls. Tip: Pack laundry soap + shampoo in your re-supply and a treat like booze and a Snickers bar so you can make the most of your brief moment in civilization!
Day 6 – Red's Meadow to Purple Lake – 13 miles
Campsite: Purple Lake
We had a slow start organizing all of our re-supply into our packs. Pro tip: Scavenge the hiker bear locker for lots of goodies. I found the leukotape I needed to tape my knee. Pro tip: If you have runner's knee or an unstable meniscus, instead of taping like me, buy knee support braces on Amazon, I wish I had used these instead. We gorged on breakfast from the hiker box and skipped the $17 breakfast at the Red's Meadow Café. We did eat burgers there the night before though, mmm! The next part of the hike continued through an old burn site called Rainbow Fire. Most folks don't love this hot, exposed part of the trail but I LOVED it! It brought me straight back to my field days in the Sierra working in post-fire habitats studying woodpeckers. We found multiple Lewis's Woodpeckers which was the highlight of my day. We also spied Green-tailed Towhees, Cassin's Finches, Hermit Thrushes, and then Red-billed Crossbills later in the higher elevations. What a birdtastic day! We ended up hiking late to arrive to the very mosquito-y Purple Lake. It looked nothing like the Purple Lake I had stopped along ten years prior on my first JMT hike. The 2011 blowdown had wiped out giant swaths of trees leaving few campsites.
Day 7 – Purple Lake to Silver Pass Lake – 8 miles
Campsite: north edge Silver Pass Lake at 37.462273N 118.921293W
We shook our dewy tent out and chowed down before our immediate ascent out of Purple Lake. We headed over Silver Pass where we had our first snow to cross, which of course involved snowballs being thrown. We ended at 3pm on an Ireland-esque view above Silver Pass Lake. We followed our icy bath traditions and then tried to scoop up the last rays of sunlight to stay warm. Gentle melodic steams strolled throughout the saturated grasses filled with paintbrushes and other glorious wildflower. The sun ducked behind the granite knife edge and it instantly turned cold. We were over 10,000 feet, the highest we had been at so far on the trail.
Day 8 – Silver Pass Lake to Bear Creek – 13.4 miles
Campsite: .1 mile north of Lake Italy Trail on Bear Creek at 37.346250N 118.877839W One of my favorite campsites!
We slept through the alarm, oops, and got a late start at 8am. It was a cold, shadowed morning through the alpine meadows until we caught up to the sun. We descended into Pocket Meadows where abundant wildflowers dazzled us in every direction. Then, we ascended the four miles up Bear Ridge. Nine years prior when I hiked this, I had resupplied at VVR and hated every minute of the uphill battle. Into the firs, pines, and now lots of junipers we strolled. We followed the footsteps of the Barefoot Theory blog and found mile 96's Little Italy Junction with Bear Creek. Holy smokes. What a campsite! We plopped down the tent in front of a series of cascading waterfalls and emerald pools over perfect sun-perching granite slabs. Keith ran into the waterfalls and I flopped around in the lower pools enjoying my bird bath. We cozied up to a warm dinner, hot chocolate, and a Milky Way dark. Life was good!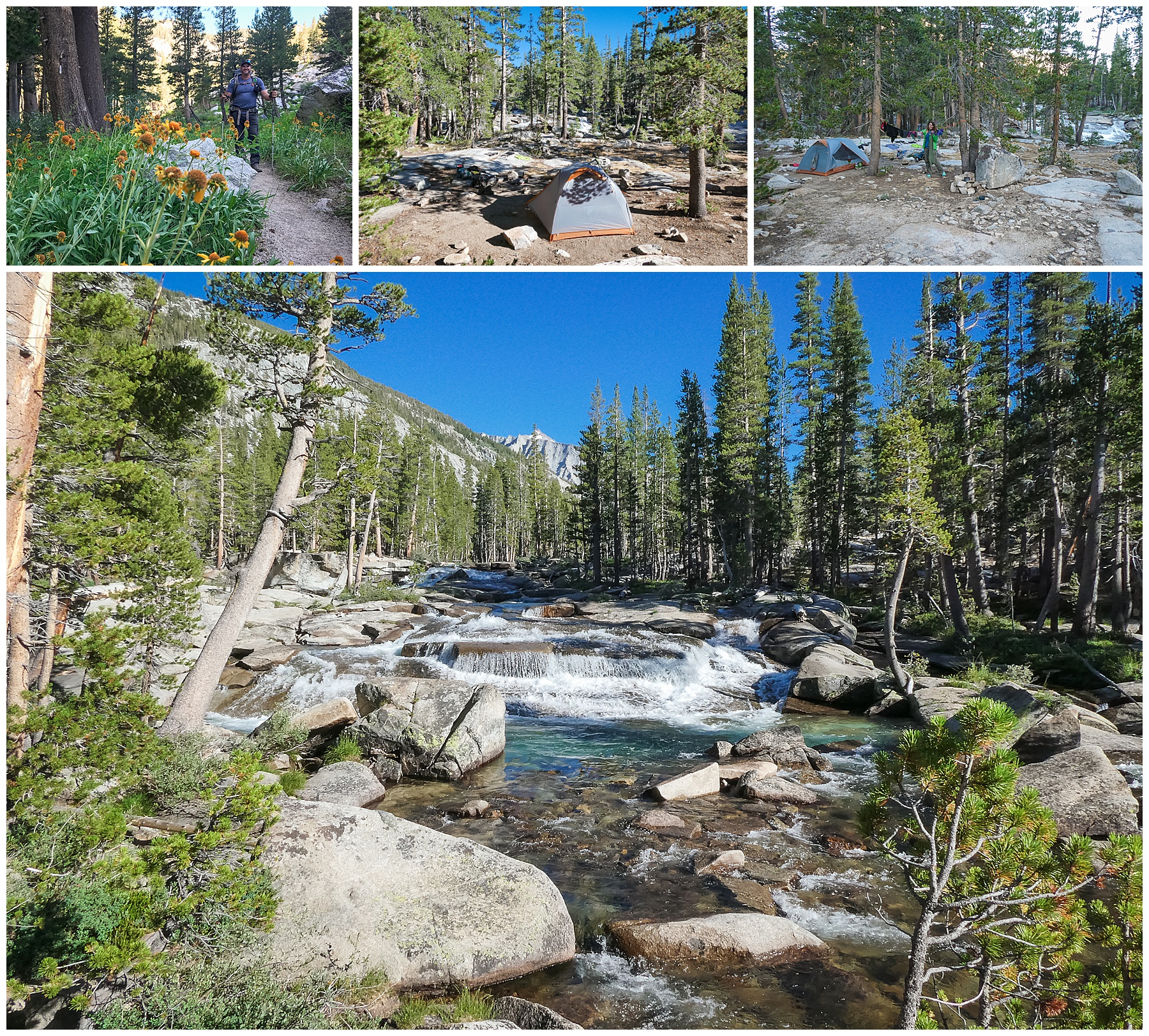 Day 9 – Bear Creek to South Fork San Joaquin River – 12.3 miles
Campsite: near JMT junction past Muir Trail Ranch about 1 mile
One of the coldest mornings yet as we packed up from one of my favorite camp spots along the JMT. Through Rosemarie Meadows and eventually the stunning Marie Lake. Selden Pass was up next and as we stood on top, we gawked at all the sparkling blue lakes. Onward past Heart Lake to Sallie Keyes for a serene lunch spot. Back to the trail we descended the hellish, knee-buckling spur trail to Muir Trail Ranch for our re-supply. I bitterly complained that whoever made that trail should be rolled down it naked in sweet revenge. MTR was crowded with hikers re-supplying and although I am grateful they provide a wonderful service, it felt very chaotic and like they wanted us gone ASAP. You can weigh your pack there to feel justified about the 8 days of food you're about to carry uphill. We hobbled out up the side trail to a busy little, beautiful spot on the San Joaquin River.
Day 10 – South Fork San Joaquin River to McClure Meadow – 10.8 miles
Campsite: just before the Ranger Station at campsite on meadow next to rocks at 37.188199N 118.745515W
The day started rough. We had very full re-supplied packs and Keith had forgotten his wallet at MTR, so he had to backtrack to get it. The views made up for the slow start as we entered Kings Canyon. It definitely lives up to its name. Bold, deep, cavernous walls. Turbulent rapids parading through. A few mellow emerald pools emerged before the grand and terrifying cascades of falls. We reached the Evolution creek wade where we slung our boots around our necks. A little while later we emerged into the jaw-dropping beauty of Evolution Creek and McClure Meadow. This area was definitely more crowded than previous camps, but rightfully so, it was grand and accessible as a weekend hike. We swam in beneath the grandiose scene melting into a dusty pink cotton-candy sky. The fire-y orange mountain peaks of the Evolution range (Hermit, Mt. Spencer, Mt. Darwin, and Mt. Huxley) stood proud. Staring into that scene, the scene my ten days had led me to, made me forget about my breaking knees and mosquito apocalypse surrounding me. So many wows. This planet is outstanding!
Day 11 – McClure Meadow to glacier past Muir Pass – 11.7 miles
Campsite: 2.5 miles past Muir Pass off the trail below a glacier waterfall at 37.124895N 118.648992W One of my favorite campsites!
Powered by dehydrated huevos rancheros, we rallied up the few miles to Evolution Lake and lingered there grazing on trail mix and gazing out at Mt. Spencer. We watched as the skies turned from innocence and fluffy bunnies to misguided rage and honey badgers. The bipolar skies rained and sunned as we powered up to Wanda Lake where we were going to camp. Deciding this sucked and ignited by the four guys in their 50s, we decided to go for Muir Pass. Thunder rumbled. Rain fell. Demonic skies hovered over as we launched up the pass like crazed adrenaline junkies. Safely arriving at emergency Muir Hut, we kicked back a bit with folks waiting out the storm. It was a few more miles down to a little lake that supposedly had camping, so we threw on our packs and soldiered into the menacing skies. Crossing slippery snow banks, numerous river crossing, and down knee-buckling loose rock; the grand scenery unfolding before me. The dazzling wildflowers delicately decorated the rugged, alpine terrain. I was in awe of the beauty in the harsh landscape and reminded of why I love the Sonoran Desert of the US. This beauty distracted me briefly from both knees giving up on life, the bad one and the so called "good" one. It hurt so bad, my eyes twitched. Luckily, about 2.5 miles as tree line started, Keith found a glacier waterfall with a small flat area for our tent. Expansive views down the valley and from the snowy cliffs behind. A dazzling waterfall and a crescent moon rising. Keith went over to the snow and filled up a bag so I could ice my 95-year-old knees. I fell in love even more at that moment. So sweet.
Day 12 – Glacier Waterfall past Muir Pass to past Middle Fork & Palisade Creek Junction – 9.7 miles
Campsite: 1-mile past Middle Fork & Palisade Creek Junction
With achy break knees but a happy heart, we traveled down the relentless rocks. The trail eased through Little Pete's Meadow and Bishop junction where we stopped for our traditional tuna and Nutella lunch. The four guys we had ran into yesterday strolled by. We caught up and exchanged trail stories as the dramatic clouds rolled in. Thunder clapped and dripped started. We departed the Middle Fork/Palisade Junction and went through the forests for a mile past the bear-clawed pines. We chose a peaceful, forested campsite near the river.
Day 13 – Past Middle Fork & Palisade Junction to Upper Palisades Lake – 7.5 miles
Campsite: 37.053967N 118.473202W
After many bear dreams, I woke up relieved and we went through our normal 1.5-hour routine. I packed the sleeping pads, blankets, and tent. Keith made breakfast and then filtered water. We were like a well-oiled machine by now and we set off for the three miles up the Golden Staircase. It feels like a never-ending series of switchbacks 1500 feet up. The views are breathtaking and the hike literally took my breath away with each hoist of my body and 30-pound pack over each rock. It's an engineering feat for sure but still cursed by many as they climb it. Exhausted, we stumbled uphill to the upper Palisade Lake and found a secluded spot beneath the whitebark pines for rain protection and next to a waterfall. Setting up next to running water was our camp priority.
Another lighting storm rolled in and we hung out in the tent as it hailed. When it stopped, we ran out to make dinner and then cuddled back into the tent to rest for Mather Pass the next day.
Day 14 – Upper Palisades Lake to Marjorie Lake – 11.5 miles
Campsite: North side of Lake Marjorie at 36.947281N 118.430547W
Our third day of rain started with Gray-crowned rosy finches – a sweet little mountain bird. We switch-backed up Mather, the skies tore open and didn't stop the rest of the day. The rain soaked through my old Marmot rain jacket that I had re-waterproofed. Pro tip: Just buy a new rain jacket if yours is more than a few years old. Re-waterproofing never gets it quite the same. The summit was relatively easy (aside from freezing) and the view on either side was stunning. The clouds hung heavy over the lakes we came from. The descent was gentle and kind. Slow, long switchbacks led us down and we strolled merrily through the Mars-looking landscape. We faced our hardest river crossings soon which involved intricate delicate moves over slippery logs. We powered on to Marjorie Lake, soaked to the bone with thunder rumbling the Sierra. We set up our tent overlooking the lake in a frenzy as the rain briefly stopped. The lake shimmered with deep blues and snowy cliffs. The clouds engulfed us and we were one with them, feeling it all.
Day 15 – Marjorie Lake to Woods Creek Junction – 9.2 miles
Campsite: Woods Creek Junction Camp at 36.873187N 118.436580W
With frozen fingers, we packed up and waited impatiently for the sun to come dry the soaked tent. We jetted to the top of Pinchot Pass, passing meadows, wildflowers, and my FAVORITE, the pikas! They scurried about with their mickey mouse ears and mouths full of grasses. The Marjorie Lake and small emerald lake past it simmered with the deepest azure and mirror reflections of their neighboring snowy crags. Their clean, crisp, otherworldly depths reminded us of the cenote we scuba dove in in the Yucatán Peninsula in Mexico. Coming down the pass started gentle but the last four miles to Woods Creek were scree hell and angry knees. We skipped lunch in favor of getting to the popular camp spot at Woods Creek Junction earlier to claim a spot. Hangry and cranky, we chose a spot a bit on the edge as we valued solitude and privacy with our campsites. Some Nutella and a dip in the river had my soul and knees happy as a pika.
Day 16 – Woods Creek Junction to Upper Rae Lakes – 6.5 miles
Campsite: 36.806145N 118.399288W One of my favorite campsites!
A pretty jaunt through the forest and not too far away to the gorgeous Rae Lakes. We found what was my favorite view from my tent the entire JMT. We headed towards the southeast edge of Upper Rae Lakes to the lake. With a stunning overlook and easy lake access and a bit of privacy, we claimed our little slice of heaven. We planned to arrive early so we could claim a spot and got the luxury to make lunch and enjoy our day at the lake. We dove into the not-as-cold-as-the-previous-Sierra-lakes waters. I perched on a rock sucking in the expansive lake and striated peaks around it. I thought the day couldn't get any better, but at dinner we found a BONUS tortilla in our Mission 10-pack. I was SO happy with whoever was responsible for the 11-pack!
Day 17 – Upper Rae Lakes to Onion Valley – 12.5 miles
Bedsite: Independence Inn
After a cold windy night and a cold hike out of the gorgeous Rae Lakes, we worked our way over Glenn Pass. It was relatively straightforward and easy with nicely graded switchbacks down. At Kearsage junction, we departed the JMT to hike over the Kearsage Pass and into Onion Valley for a resupply. We hitched a ride with a lovely father and daughter who had just finished a week in the backcountry. Soon we were in the small town of Independence to enjoy a night in bed and get our next resupply box. We were so thrilled to have found a much more affordable option over the Mt Williamson hotel and resupply. Jim owns the Independence Inn and offers pick-ups from Onion Valley, great rooms, a hiker bins, laundry, and will hold your resupply box for free. Plus, his stories are awesome! That night, we went to the Still Life Café, which Jim refers to as the "Still Waiting" café because of their slow service, which it was. We feasted on bourbon aged beer and burgers. I was disgustingly full, happy, and clean.
Day 18 – Independence, CA – 0 miles
We slept in and made a grossly wonderful breakfast of dehydrated eggs and randomness we found in the hiker box. We took the shuttle to the slightly larger town of Lone Pine and purchased a spoon, a patch kit for our leaking REI flash pads, and Nutella. I was told I needed to stop eating dehydrated beans for lunch and respectfully put all my bean lunches into the hiker box and replaced them with Nutella. Beans and tents are the true test of a marriage.
We enjoyed greasy grilled cheeses and milkshakes in town and then bussed back on the Eastern Sierra Transit ($3.50) to Independence. That night, we feasted at the local taco truck and hot damn, it was SO good!
Day 19 – Onion Valley to Vidette Meadow – 10 miles
Campsite: 36.758755N 118.406436W
We caught a ride with Jim after my stomach-ache inducing Dr. Pepper breakfast bender and got back to hiking at 10:30AM. We both felt strong even with the re-supply weight. A zero day was a great choice! We powered over Kearsage Pass and lingered at the windy top creating video clips for our video-story of the JMT. We continued on past the beautiful Bullfrog Lake and then reunited with the official JMT. We settled on a forested spot above the big creek crossing in Vidette Meadow. A flock of deer munched around us as we ate dinner. The cold had me in my bag earlier than normal.
Day 20 – Vidette Meadow to unnamed lake 2 miles past Forrester – 8 miles
Campsite: 36.678965N 118.378448W
The coldest, most pitiful night yet. My REI flash sleeping pad deflated leaving me on the cold, hard ground waking up every twenty minutes super cranky. Keith's slowly deflated too, and we both cursed REI in the morning. Pro tip: Inflated sleeping mats are super comfortable but opt for a more reliable brand like Sea to Summit or go for a traditional Therm-a-rest. Ice crystals formed in all the water and Keith made a morning fire to thaw during our dehydrated biscuits and egg breakfast. We set forth up Forrester. It was a little more than six miles and five slow hours until we trudged over a few snowy switchbacks and sat on top. We photobombed the neighboring Mt. Keith in honor of Keith and then continued down the well-graded switchbacks. The emerald lakes sparkled in the barren landscape. About two miles past Forrester, we set up near an unnamed 12,300' lake in a sheltered sandy tarn. I found my sleeping pad leak with soap and water and then found Keith's second leak. We patched them, I took a bird bath, and then we ate my favorite, Mountain House dehydrated Lasagna. Mint Oreos for dessert!
Day 21 – Unnamed Lake to Wright Creek – 7 miles
Campsite: 36.597237N 118.375774W
We slept in till 7AM and slowly emerged from the tent awaiting to the sun to rise over the ridgeline. We chowed down on a huge breakfast burrito of dehydrated eggs, beans, cheese, and potatoes. Off we ambled down the gentle, barren landscapes. We took a gander at the serene, small Frog Ponds and lingered. Revived, we resumed through the desert landscapes ahead. Continuing towards Bighorn Plateau, we walked through the twisted dead Foxtail pines. Some were tortured looking like skeletal hands rupturing from the earth. We took a lunch break beneath the chickadees. I ate a bean and cheese burrito. A SECOND bean meal. A noxious, gassy cloud followed me the rest of the day. Testing marriage boundaries. We sauntered on and found a lovely site all to ourselves .25 miles before the High Sierra Trail on the Wright Creek. We read in the afternoon glow. Repaired our woebegone REI sleeping pad holes. Yes, there were even more now. We ate our glorious pasta primavera dinner, hot cocoa, and Almond Joy. It was hard to believe it was almost over. Mt.Whitney loomed in our vision and our dreams.
Day 22 – Wright Creek to small lake .5 miles past Guitar Lake – 8 miles
Campsite: 36.564653N 118.307488W One of my favorite campsites!
Friday the 13th! With coffee, hot chocolate, and oatmeal warming our souls, we slowly got back on to our familiar trail. We went through rolling trails, foxtail & lodgepole pine forests, stunning flowery meadows, and into the presence of Mt. Whitney. We scurried past the crowed Guitar Lakes and past the next two small lakes and powered on in search of other hidden water sources and campsites. We found a gem of a spot off the trail, but Keith insisted we push a little more away on our last night. We wandered closer to Hitchcock Lakes and found a hidden paradise lake north of it. Beautiful sapphire waters and volcanic shelves. Pipits chirping. Jagged crags. Whitney towering over. We scarfed down lasagna and scampered over the rocky outlook to spy our only real JMT sunset. We sat and looked out at the peaks and valleys we had traversed in awe. We breathed it all in. A sadness swept over in that golden radiance. I didn't want this to be our last night. But it was a beautiful last night tucked in our own secret lake beneath Whitney's toothy golden grin.
Day 23 – past Guitar Lake to Whitney Summit to Whitney Portal – 15.5 miles
To be honest, I wrote every night about my day, but this night I didn't. There's an overwhelmingness that comes with the last day of any thru-hike. Especially when you are thrust into civilization and swarms of people on weekend peak-grabbing trips. It was disheartening and anticlimactic to join the crowds. We hiked to the peak with our legs primed and pistoning like bionic limbs at that point. Our hearts and lungs barely winded. It was a superb feeling to be so strong. We reveled just momentarily at the top. I befriended the rosy finches and ate cheese and tried to ignore the humans making phone calls loudly from the top. We bounded the long, long journey down a million switchbacks to the Whitney Portal and past the over-used campsites. Pro tip: Try NOT to camp at any of the Whitney basecamps, they really are trashed at this point. We hitched a ride to Lone Pine and stayed at the Whitney Portal Hostel. I slept like a person who had just hiked over 220 miles. And just like that, it was over. I was left with the memories and sun blister scars on my hands that still linger half a year later. And that's my last advice, always wear your sunscreen and maybe even sun gloves. But, I love looking down at my worn hands and be reminded by those scars of the power of one foot in front of the other.